Products in this post were provided by PR/the brand
Fresh Set of 5 Sugar Rush Gift Sized Lip Treatments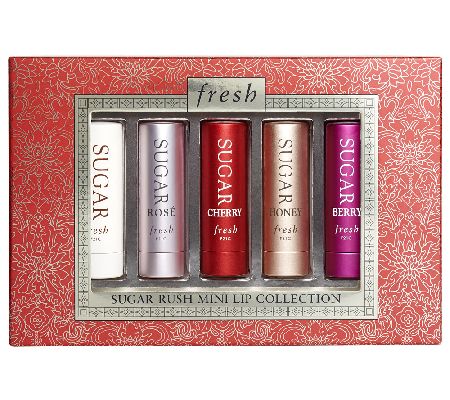 Product Type
This is a set of 5 amazing Fresh Sugar Lip Treatments in "gift size".
In this Set
This set includes the following flavors:
Sugar

Sugar Rose

Sugar Honey

Sugar Cherry

Sugar Berry
On the Lips
Oh my gosh, these are amazing! I have been a long-time fan and regularly keep a couple of these in my purse as well as around the house. They're thick and hydrating and the flavors are lovely! My absolute favorites are Sugar and Sugar Rose, but they're really all amazing. The tinted ones tend to lightly tint the lips without a super dramatic effect. I have found that using these under lipsticks can work if you apply a thin layer. With thicker layers it tends to prevent the lipstick from adhering. You absolutely need these in your life!
Price
This set retails for $42 on QVC
Where to Buy